From 2021, new rules apply for paying by credit card.
We have therefore changed our website to https://olofpark.com


Tap here to pay by credit card and then




All prices includes IVA. Logic Marketing ltd. N.I.F: W8265479I





Book your place and allways pay before parking.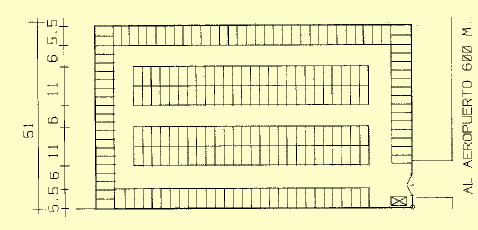 OLOFPARK offers an alternative parking at an affordable price for users of Jerez airport.
The parking is a pioneer in Spain in the introduction of this concept of self-service parking
near the airport.
The carpark operates on reservations made in advance via internet.
Once the reservation is made, drive your vehicle to the parking, park and lock your car.
Please fill all the details online booking request so staff parking can verify more readily
the validity of your stay in the parking lot.
No need to leave your car keys. Travel assured that upon returning from your trip your
car will be at the same point you left it parked.

PARKING FEATURES:
* Galvanized wire fence.
* 24 hr parking throughout the year.
* No additional payments or holiday weekdays.
* Time transfer to the airport 10 minutes walk.
* Way too airport is dark at night, it is recommended taxi transfer.
You can hire them on the phone 660 22 44 40 (Taxi company independent of us).

RESERVATIONS
Choose your dates and times when you want to use the parking service and click "Book Now".
Payments are made through our website with PayPal or Credit card, you will receive an
electronic receipt automatically at the end of the booking. (Sorry no Debit cards are accepted).

TRANSFERS
Transfer time: 10 mins on foot

ADDRESS
* It is a self-service parking with a short distance from Jerez airport (600 meters from the airport).
* Details of the parking situation, GPS coordinates of the parking will be sent to your email
after the reservation.

If You have not booked your place, just park and pay by PayPal or similar to
xry@olofpark.com showing date and the registration number of Your car.

Price 5 € a day.

Cars parked without paying the fee, will not be able to leave the parking lot
without assistance.
Comments
Allen, Gibraltar
Very happy with your service, rates and security. Easy online check-in. I walked with hand luggage to the airport in just 8 minutes. Keep it up guy's, great service.
STEPHEN, CHICLANA
Muy bien y mas barato de parking en el aeropuerto, very good and cheaper than parking in the airport.
Alexandra
It is good if I want to save money.
Allen
Just to thank you for your super service from 1-06 - 13-06 2012 at your car park in Jerez. It took me just 8 minutes to the airport on foot.
Will definitely use your service again in the future. My car was well looked after.